From the Korean Ministry of Foreign Affairs:
1,500 to 2,000 word essay
Deadline: 12 July, 2013
Notification: 'end of July'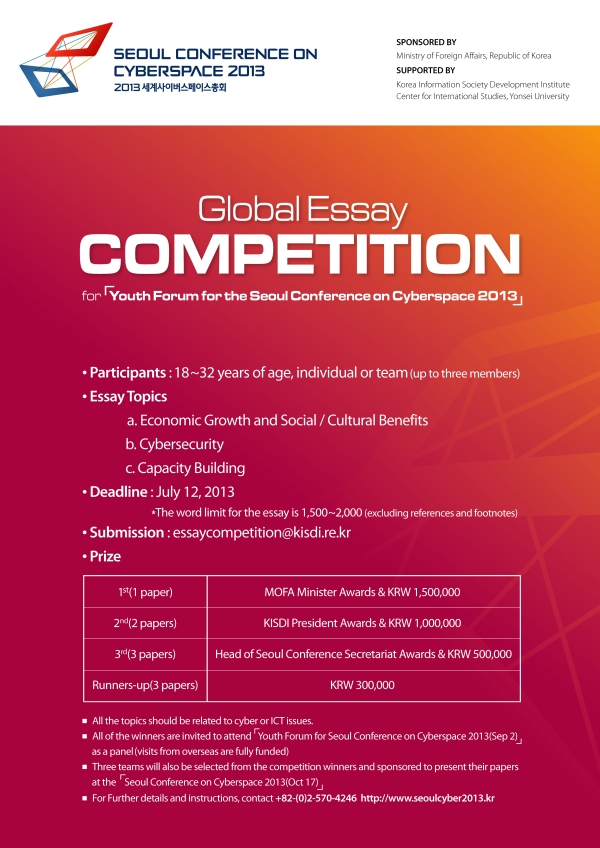 Global Essay Competition for Seoul Conference on Cyberspace 2013
is a special competition, hosted by Korea's Ministry of Foreign Affairs(MOFA), Korea Information Society Development Institute (KISDI), and Center for International Studies of Yonsei University for youth aged from 18 to 32 across the world. The event forms a crucial part of the Seoul Conference on Cyberspace 2013 (the SeoulCyber 2013); the awards ceremony will be held at the SeoulCyber 2013 Youth Forum scheduled on 2 September 2013 at the Yonsei University, Korea. The aims of the competition are twofold: firstly, to encourage ambitious and talented students all over the world to demonstrate their own ideas on a set of ongoing cyberspace issues; and secondly, to foster their capacities on the purpose of coping with a wide variety of (inter)national cyber threats.
Candidates are invited to submit an essay of between 1,500 and 2,000 words (excluding footnotes and references) on one of the three questions below.
Internet as an engine for economic growth and social/cultural benefit
Securing yourself from cyber threats
Towards a shared prosperity (capacity building)

Submissions must be received by the deadline of 12 July (email entry to essaycompetition@kisdi.re.kr). Those intending to apply should also complete an application form which is to be included with the submission. Results will be announced by the end of July.